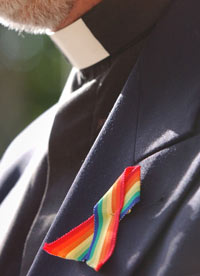 By Mark Oakley
Originally Posted by The Guardian on June 4, 2011
As far we know, Jesus never mentioned homosexuality. He did, however, talk about hypocrisy and endlessly challenged those (usually priests and lawyers) who used the rule book more than their imagination. His arguments were often with those who failed to see the dignity of those who were different to the men in charge.
If the bishops were to follow their lawyers' checklist
in deciding on new colleagues, history will repeat itself as religious leaders make themselves both inhumane and hypocritical.
Why inhumane? Well, gay people have no choice as to their sexual orientation but, when recognised, they do as the rest do – try to find someone to love and grow old with. Although some are drawn to a celibate life, most feel that it is not good for them to be alone and they seek intimacy and a togetherness that, as married people know, is easier to make stable when celebrated and supported publicly and without fear. Priests and bishops are no different. To stop such people being ordained because a group doesn't like the fact that some people will always be homosexual would be as unjust as not having made John Sentamu the Archbishop of York because there was a theological argument going round for a white man. If talk of unity is to have any authenticity there has to be diversity and bishops should be signs and enablers of both. Instead, to make gay Christians even more afraid to be honest about who they are, and their need to love and be loved by someone, is not only inhumane but shameful.
Why hypocritical? Putting aside the fact that the present bishops were not questioned on their own sexual pasts, it would be an extraordinary policy to pursue this checklist when so many bishops know and privately support gay clergy in partnerships as well as those who are single who have been partnered at some stage. It would be equally duplicitous to imply that such gay bishops would be an innovation. Truthfulness would be the innovation.